A lavish celebration of nature's finest treasures
In this Deluxe Exotic Fruits Christmas Hamper, we present you with a treasury of nature's most exquisite creations. Each succulent, rare fruit has been carefully chosen to tantalise your senses and offer a diverse flavour experience. Perfect for adding something exotic to your Christmas lunch table, or as a generous gift to a loved one.
What's Inside...
White Pitaya
1 fruit
The White Dragon Fruit or "Pitaya" is an exotic marvel originating in South America and Southeast Asia. Its juicy, refreshing flesh bursts with a delicate blend of sweet and tangy flavours. This captivating fruit carries a rich cultural heritage and a history intertwined with ancient legends.
Red Pitaya
1 fruit
Embark on a fiery journey with the vibrant Red Dragon Fruit or "Pitaya". Originating from Central America, this exotic gem thrives in arid climates, imparting a unique essence to its succulent flesh. Slice it open to reveal a spectacle of juicy, subtly sweet goodness, rich in antioxidants and nutrients.
Yellow Pitahaya
1 fruit
Yellow Pitahaya is the sweetest dragon fruit variety. It captivates with its vibrant colour, succulent texture, and exotic flavour. Originating in Central and South America, this magical fruit offers a delicate sweetness and refreshing juiciness.
Blood Orange
2 fruits
The Blood Orange is bursting with a sweet-tart symphony. Its crimson flesh unveils a succulent juiciness with raspberry undertones. The Blood Orange is the perfect Christmas citrus fruit.
Manzano Banana
2 fruits
Manzano Bananas - also known as apple bananas - are small but sweet, offering a honey-like sweetness with notes of apple and strawberry. Their ripe texture is beautifully soft, luscious and creamy.
Mangosteen
4 fruits
Mangosteen seduces with its velvety texture and luscious sweetness. Originating in Southeast Asia, this regal fruit boasts a rich history, revered for its healing properties and hailed as the "queen of fruits."
Rambutan
4 fruits
Rambutan captivates with its unique appearance and succulent sweetness. This Southeast Asian fruit has a soft, juicy flesh, reminiscent of lychee. For generations, its been cherished as a symbol of good fortune.
Lychee
3 fruits
Lychee, originating from China, delights the senses with its luscious, juicy flesh and incredibly floral aroma. Its velvety texture, reminiscent of silk, bursts with delicious juice when bitten into.
Quince
1 fruit
Quince - a symbol of love - offers a heady aroma with hints of apple, pear, and citrus. Quince is best enjoyed cooked - we recommend slicing it into wedges and simmering with a cinnamon and other spices.
Granadilla Passionfruit
1 fruit
The Granadilla truly captures the essence of tropical paradise. Its vibrant flavour bursts with sweet and tangy notes, whilst the texture is a delightful explosion of juicy pulp and crunchy seeds.
Espada Mango
1 fruit
Espada mango, a tropical symphony in every bite. Originating from the lush groves of the Philippines, it dazzles with a succulent texture and a sweet, buttery flavour profile. A tropical delight that embodies the legacy of exotic indulgence.
Sweet Baby Pineapple
1 fruit
Sweet Baby Pineapple bursts with a harmony of honeyed sweetness, tinged with citrusy notes. They tend to be softer, sweeter, and richer in flavour than their full-grown relatives, and they have no core.
Longan
100g average
Longan is a treasure from ancient China. Its translucent flesh is similar to lychee, but with a more unique tartness and muskiness in flavour. Longan is incredibly juicy and sweet, offering a satisfying burst.
At Exotic Fruits, We Provide...
Next-Day Shipping
All orders will be sent on a next-day service to arrive with you on the 22nd or 23rd December. This ensures the fruits are fresh, just in time for Christmas. If you'd like to receive yours sooner, email your request to info@exoticfruits.co.uk - but please note that some fruits may not yet be available.
Gift-Worthy Packaging
Our Deluxe Christmas Hampers are packed in the finest wicker baskets, making them perfectly wrapped to be an impressive gift. The fruits are cushioned by wood wool for optimum preservation. We also include a beautifully designed menu with details on each fruit.
Only the Freshest Produce
We restock fresh fruits multiple times per week. This means the fruit delivered to your doorstep was picked fresh from the tree - in Asia or South America - only 5-10 days earlier!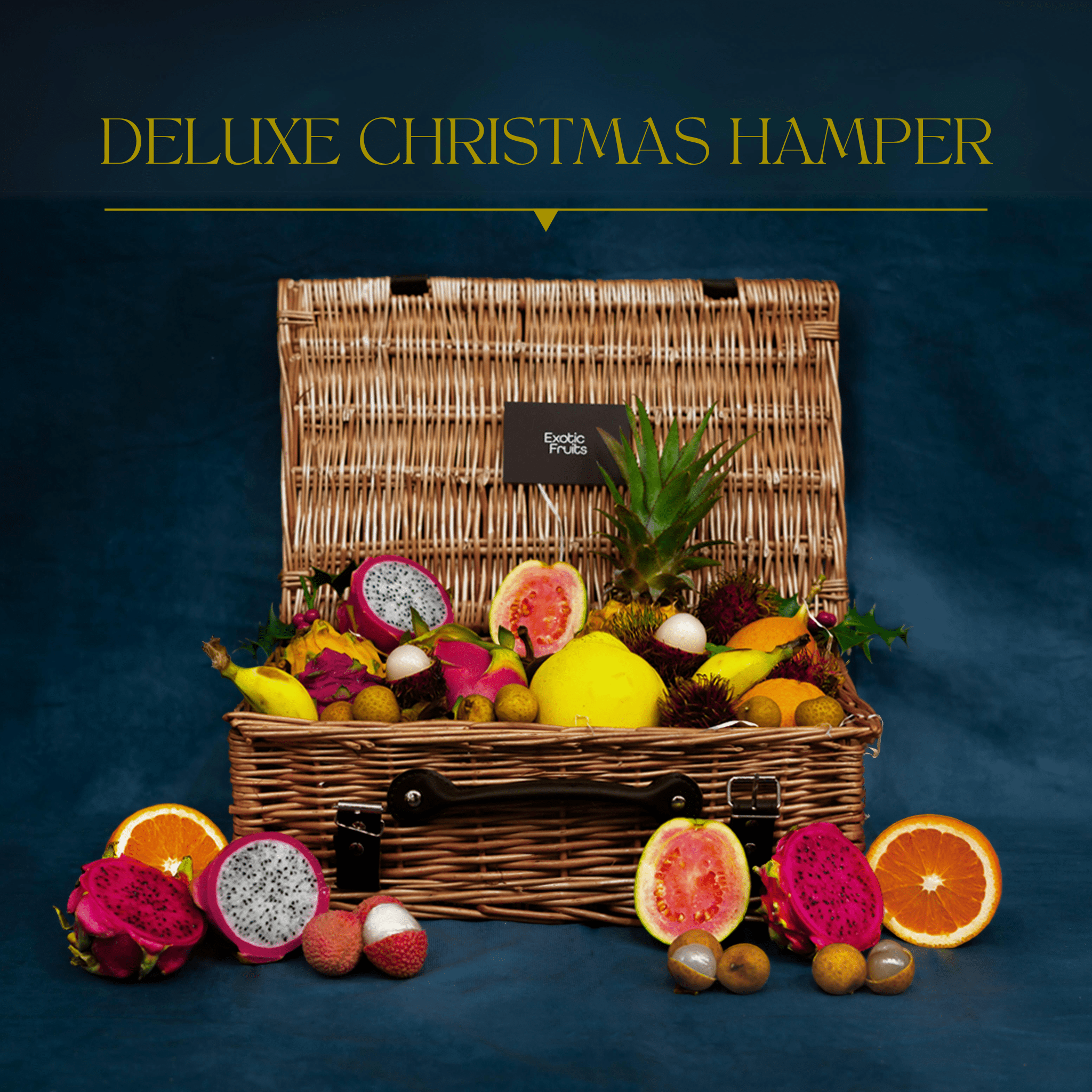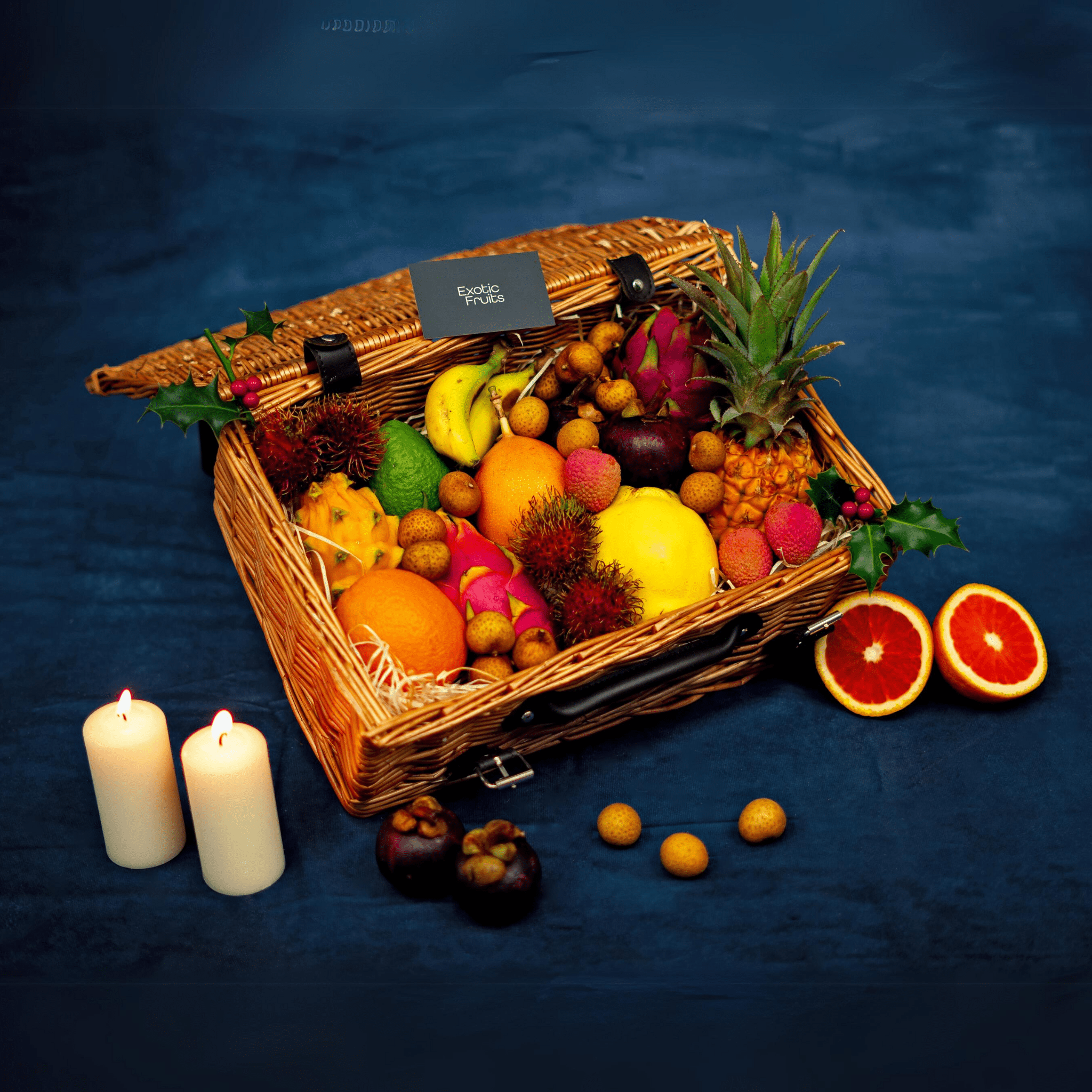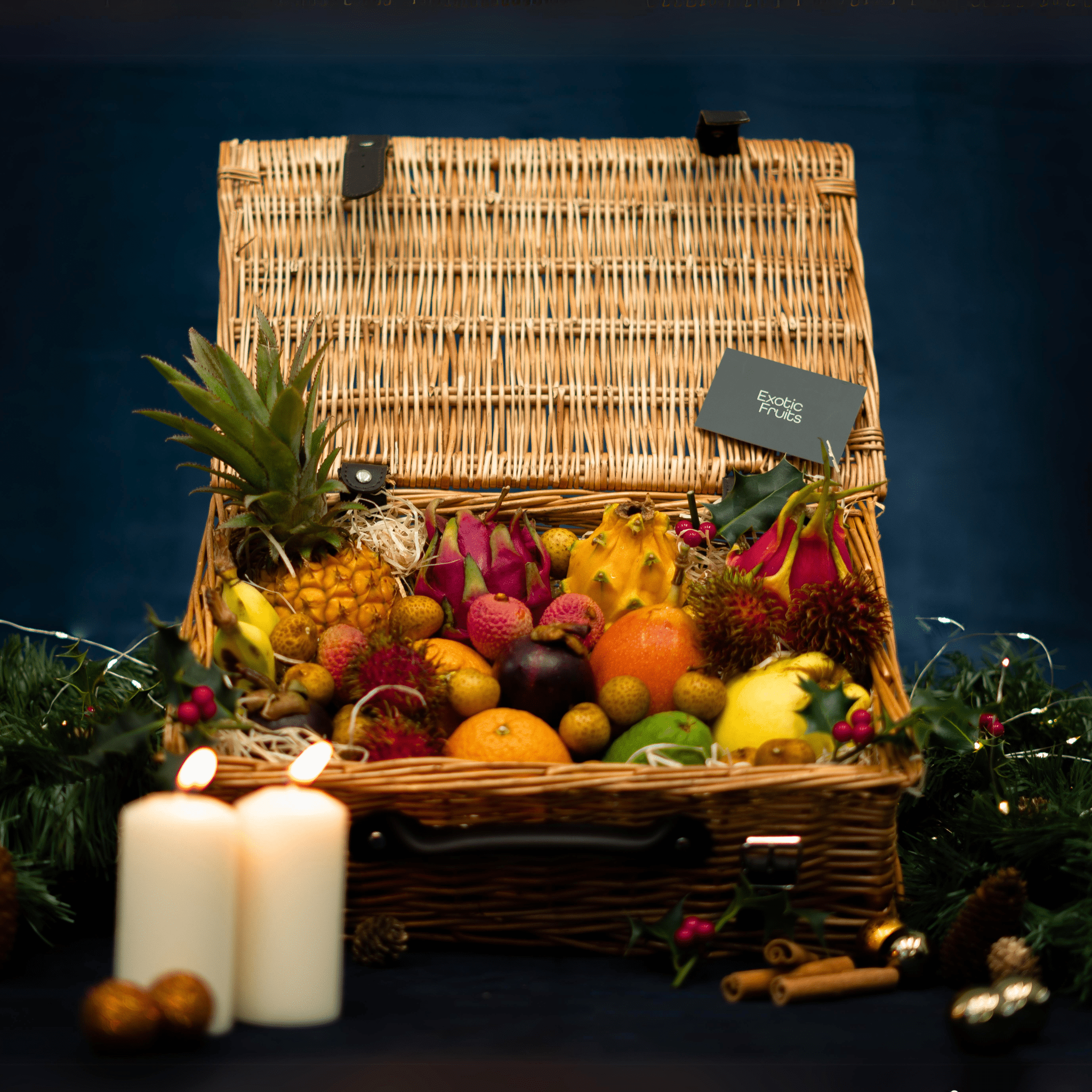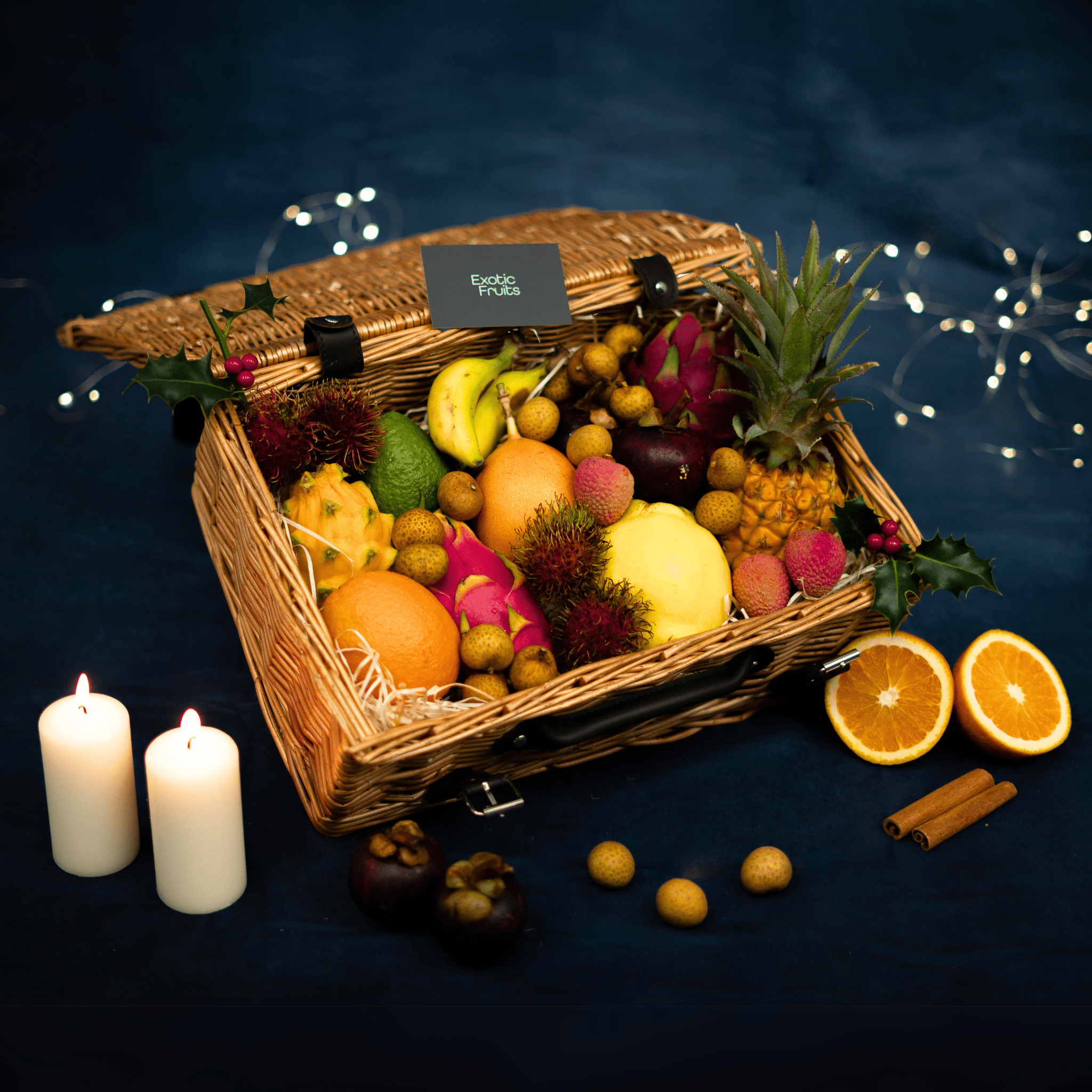 I was lucky enough to receive a wonderful assortment of fruit boxes to try. They arrived quickly and everything looked amazing! The selection of fruits was truly exceptional, with types you won't find in your average supermarket. Each bite was absolutely delicious, making me feel like I was on a tropical vacation. The packaging was beautiful, and the customer service was top-notch. I highly recommend this experience to anyone looking for a little taste of paradise.
Jelena
Trustpilot Customer
Unique gift, all the fruit sent was packaged wonderfully and really fresh and lasted much much longer than supermarket bought fruit. Daughter loved it!
Rebecca
Trustpilot Customer
Speedy delivery, easy to use website, fantastic packaging and of course delicious tasting exotic fruits! Bought this for my father for his birthday and we both absolutely loved every fruit. Some of which we have never heard of before! Thanks a lot team, well done. Will definitely recommend to friends and family.
Ibrahim
Trustpilot Customer